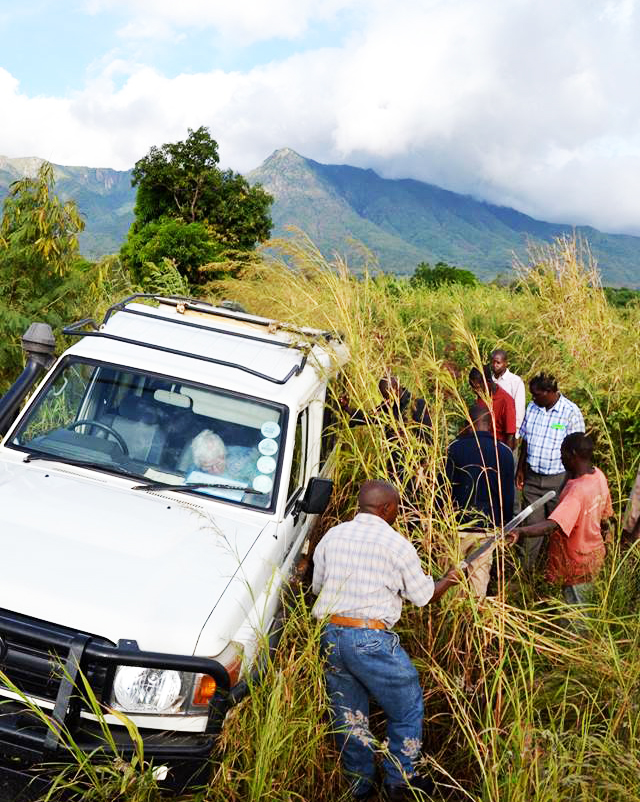 Chingale is a fertile valley that sits in the northern valley below a mountain called Zomba. We are visiting the field work of the World Vision team who is nearing the end of a fifteenyear plan. We quickly discover that there is one teeny bump in the road ahead. The president, Her Excellency President Joyce Banda, is also visiting Chingali today. With elections in less than one month, she is hitting the campaign trail hard.
Turning off the tarmac onto the dirt both sides of the road begin to populate with people, many of them dressed in the color of the ruling party, orange. Children wave. Only rock stars and presidents can appreciate how bizarre it is for people to flock to the sides of the road to greet them.
The rainy season has just ended, which is why I travel in April and not March. Oddly, it begins to rain. The crowds grow. The raindrops turn to downpour. People, standing under umbrellas and trees, or seeking shelter in doorways, wave. We wave back. Chingali is excited today. The president is coming! And we are trying to race ahead of her convoy to get to the district office.
Too late.
A police car pulls up from behind and motions for us to pull over. She is coming. Sirens. Police escorts. Torrents of late rain. What else is there to do but hop out into the ankle deep gulley of water and get ready for President Banda to pass by!
Standing ankle deep in brown muddy water wearing our brand new tailor made "traditional wear," we smile and wave as the head of state blows past us in blur.
The rain dries up faster than the roads do. The ink on our new clothes is now running onto our skin and the cars ahead are sliding. Next, we are gliding solidly into a ditch where we are totally stuck. Great. Crowds gather around us. I see a little panic in Jourdan's eyes. Mom is smiling like a champion. Amanda is chill and quiet. I'm pretending to make a call on my cell phone so I can record a video in the chaos without getting caught by the people watching us, watch them.
Stuck in the mud on the side of the road. This is the quintessential experience for travelers in Africa. I've been here more times then I can count and have every confidence we will eventually become unstuck and on our way again. It is just a matter of time.
And I'm right – although, never freed like this. We are fortunate enough to be hauled from the mud by the president's back up Caterpillar. For such a time as this. Cheers. Smiles. We are on our way again. The president was far ahead of us by now and we avoided the crowds by skipping the office and heading to a mother's club and then a fishpond. But not before sliding off the dirt into an invisible hole. The car was tilted sideways, hung up on the back axle, with the back left tire spinning air. This was going to be a little trickier. This time there is no crowd and no presidential tractor pull.
Ingenuity. Strong men dug giant rocks from the garden we were parked in. They built a makeshift road of sorts by pushing and piling boulders the size of a two year old in place. It was smart, hard labor.
My travelers were learning that this is actually all in a day's work here. This work is never easy. Getting unstuck physically, economically, systematically takes integrated solutions from the top down and the bottom up. It means that political leaders must show up, even in the rain and the mud, and listen to their people's cry. It means that men and women must figure out solutions for themselves and be willing to get their hands dirty and risk a rough road to arrive at a better place.
Our plans were totally derailed by crowds and rain and roads but the mothers welcomed us with singing and strapped their chubby babies on our backs. The fish farmer smiled as he showed us how to feed three ponds of fish. He has sold so much fish that he has built a second building to rent. Ten years ago he chopped wood for fire, depleting the forest to eke out a living. Now he sells farm-raised fish and dabbles in real estate. This man understands what it means to be pulled out of the mud and put back on the road. Healthy babies and work that provides income for families – this is what it looks like to be unstuck.
You can follow our story on Twitter @WaterMalawi & Instagram @WateringMalawi !