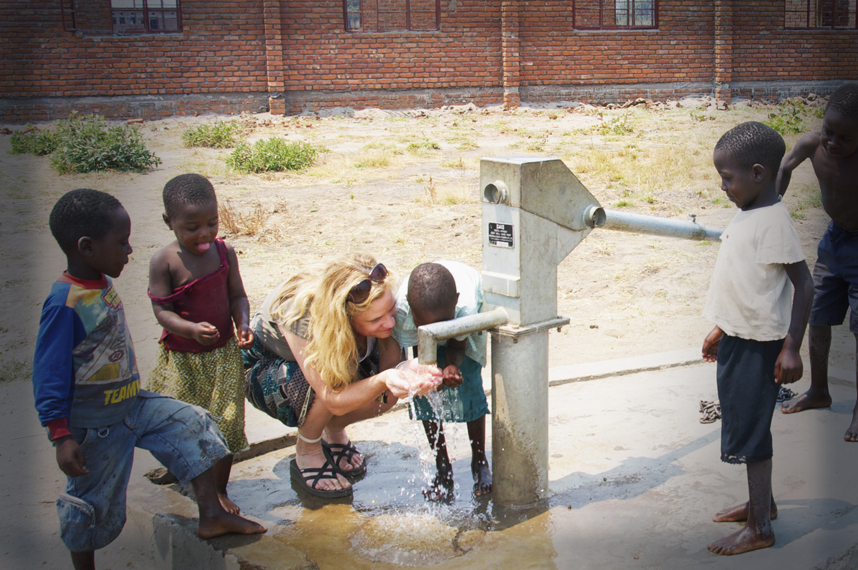 "He has told you, human one, what is good and what the Lord requires from you: to do justice, embrace faithful love, and walk humbly with your God."
Micah 6:8
Colleen Burroughs, Founder of Watering Malawi, was born in Africa and grew up on the shores of Lake Malawi.  When she married the now founder of Passport, David Burroughs, she asked him to return to where she grew up, and in 1995 they flew to Malawi together for the first time.  Colleen and David reconnected with her childhood friend, Peter. Peter's children and David and Colleen's children are now friends and sing Chichewa songs together. The Burroughs visit Peter and his family as often as they can.
In December of 2005, Colleen was watching CNN and on the bottom of the screen ran in small print, 5 million at risk of death due to drought in Malawi. There would be four droughts in ten years. She was overwhelmed to think of these effects and those she knew in danger. She called anyone related to organizations that might be able to help, and she found that they were busy and focusing their efforts (and rightly so) to the tsunami in Southeast Asia and hurricane Katrina.
So in January of 2006, at the youth event Faith in 3D in Disney World, Colleen challenged 2000 teens to water a country by purchasing pumps and wells.  She then challenged youth at Passport camps, and they responded in big ways.
Creative responses of rock concerts, talent shows, art shows, silent auctions, t-shirt bracelets, worship services, car washes, birthday parties, sponsorships, marathons, school projects, booster clubs, private donations, vacation bible schools, religion clubs, women's groups, community outreach, and even those who would give a dollar for every shower or load of laundry all went to give a cup of clean water for someone in Malawi and to help raise awareness for this cause.
Watering Malawi funds projects related to water that help break out of the cycle that leads to extreme poverty.
The need first began with an urgency to provide access to clean water due to droughts.  It is not as simple as drilling wells. With water, comes the need for bathrooms. Airborne disease can be spread through the latrines and that leads to students not attending school. Therefore, the need arose for sanitation education. Do you know if you wash your hands, you cut the risk of illness by 50%?
To continue its work, Watering Malawi continues to ask, "What is the best way to help right now?"
The Burroughs go back to visit every other year to hold accountable the work that students fund.  In 2011, Passport hosted an international camp in Malawi where students from the United States joined students in Malawi on a Walk for Water. Together they will learn from one another and see the fruits of their gifts and commitment to bring clean water to the thirsty.