Educating children to learn and care about others across the world and empowering them to make a difference is a life-changing experience for everyone involved. These stories are just some of the many ways your children's groups can participate in the fight against against water poverty. If you're inspired to make a difference, you can check out our resources to start your own water movement or contact us to see how you get get involved.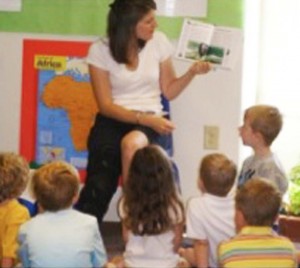 Read a Story
Some churches have weekly mission groups.  This group of 1st-3rd graders downloaded Mpatso's Garden from the website to read together and dreamed up new ways to help bring Water to Malawi. They shared facts about Malawi and learned about water poverty using the resources posted on the Watering Malawi site.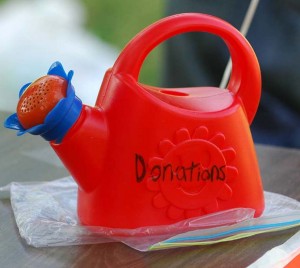 Watering Can Offerings
Many children's groups have responded to the Watering Malawi invitation by deciding to collect an offering.  One student challenged her church family to share money saved on a water bill at home.  Children decorate watering cans of all kinds and take them home so their families can collect coins to water gardens together.  By teaching their parents about the need for access to water in Malawi, children do an important job of raising awareness.
Vacation Bible School
Churches across the U.S. have participated in the Water U Doing? Vacation Bible School. The curriculum, written by Cindy Gaskins, teaches children about Malawi and how important having clean water is for life.  Most importantly it teaches children about Jesus' love and how important his love is in our life!  He is Living Water for everyone in the world!
"We enjoyed participating in the Water U Doing? Vacation Bible School this past summer, and our children were thrilled to learn about Watering Malawi.  We designated our Vacation Bible School offering for your organization and pray that it will be used to help many who lack clean water for drinking and other uses."
Susie Webb -Newport News, VA
Director of Preschool and Children's Ministries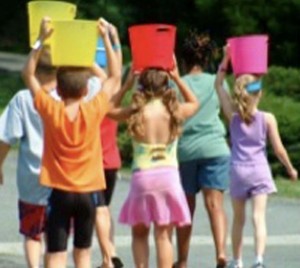 Summer Camp
PASSPORTkids! In 2006, campers grades 3-6 experienced a daily task for many of our friends in Malawi.  They carried heavy buckets of water balanced on their heads from the lake to the dining hall.  They felt the weight of what many children do each day to bring water to their families and found a new appreciation for their friends on the other side of the world! www.passportcamps.org/kids
Want to share your group's story? Let us know how you are raising money or awareness for Watering Malawi here and you you might just see your story on our site or blog!