With passion, influence, and a good amount of free time, college students are uniquely positioned to make a big difference.  We've been blown away by the stories of  students and campuses rallying around Watering Malawi to raise awareness and funds.  These stories are just some of the many student groups across the United States that have taken stance against water poverty, gotten involved and made a difference.  If you're inspired to make a difference, you can check out our resources to start your own water movement or contact us to see how you get get involved.
Delta Delta Delta Running for Water – University of Florida
Morgan Hightower wanted to make a difference in the world, so she approached her sorority, Delta Delta Delta, and sponsored Running for Water, a 5k marathon to benefit Watering Malawi.  They started with two students and by the end of two months; they had 50 girls organizing the event.  They handed out flyers, painted banners, and called people for sponsorship and donations.  They spread the news of the event through the newspapers, local news, radio shows, word of mouth, and t-shirt sales.   Running for Water had 350 runners!!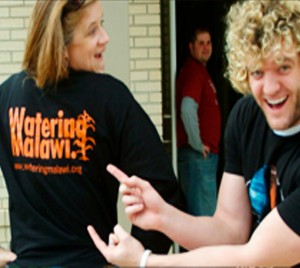 Religion Club T-Shirt Sales – Campbell University
The Religion Club decided they would take profits from their T-shirt sales and give to an organization that reflected the values of their group.
"Watering Malawi was an organization that we trusted, was recognizable, and one that we knew would effectively use the money we donated.  Our decision to have such an event for Watering Malawi reflected our club's own sense of social ministry and responsibility towards helping others in any way we could. Providing water to other human beings who do not have adequate access to it not only meets human need, but embodies the Gospel's sharp moral challenge to care for the well being of others.  Watering Malawi sees this, and so did we in the Religion Club."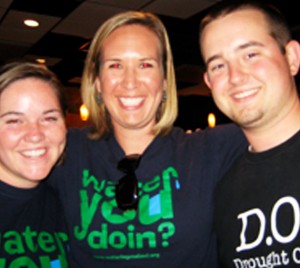 Coffee House Fundraiser – Samford University
Sara Hunt and William Deal organized a benefit concert on campus in the spring of 2009. The event lasted two hours and featured four student artists. The atmosphere of a coffeehouse drew a large crowd and created a perfect setting. Between each act, a Watering Malawi video would be played or someone would speak about the cause and offer ways they could help through giving and awareness. Bracelets were given out to encourage students to share with a friend.  Six months later, strangers to Sara and William are walking around campus wearing their blue bracelets. The Watering Malawi event was successful in joining together and informing a community about how to make a difference in the world.
"The reason we chose to help Watering Malawi is pretty simple, clean water means life. As we were looking at the different Millennium Development Goals, it struck us that many were going to be impossible, or at least extremely difficult to reach without changing the haunting fact that almost half the world's population faces a scarcity of water. How are we to end hunger, when people don't even have clean water to drink? "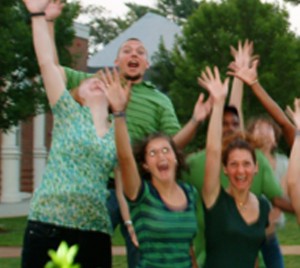 Community Event – Baptist Theological Seminary
Eric Hasha and Tiffany Hall were students coordinating the first ever global missions initiative for their campus. They teamed up with two other state organizations and pulled off a massive community event to raise awareness and money for water projects in Malawi.  They organized music, Crosswater cross sales, bracelets, games, local sponsors and churches.  It was a successful Watering Malawi event that also succeeded in bringing a local community together.  Beautiful.
Want to share your group's story? Let us know how you are raising money or awareness for Watering Malawi here and you you might just see your story on our site or blog!